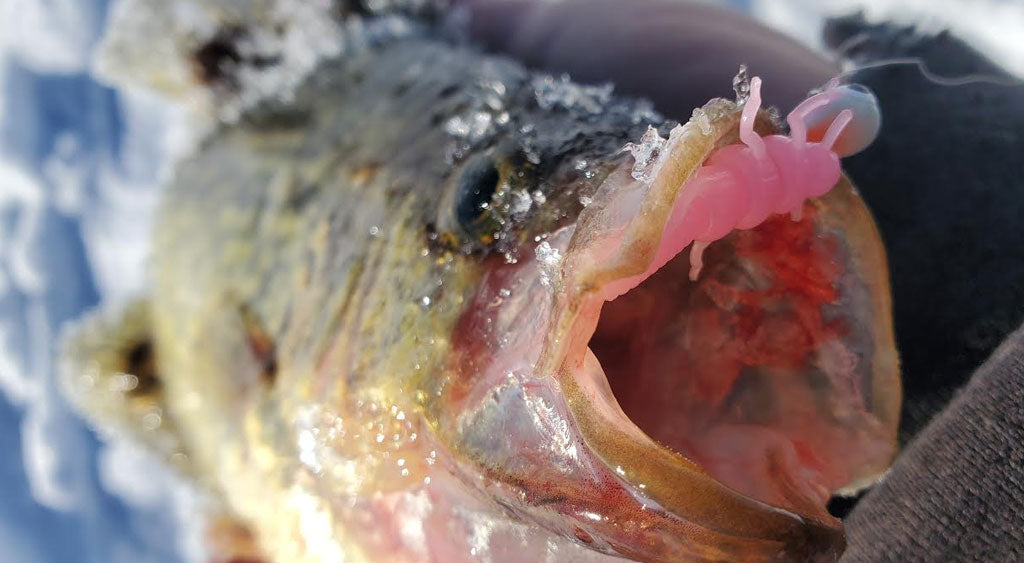 Using soft plastics for ice fishing
Waxies, worms, and minnows are all live bait staples that many anglers have become accustomed to using for panfish through the ice. While they all their merit, soft plastics have gained significant momentum in the hard water world.
Soft plastics are durable, versatile, and require minimal storage when compared to live bait. Using a system of different sizes of soft plastic rigs can be a great way to catch bluegills, crappies, and perch throughout the ice fishing season.
Mini Lipless Crankbaits Tipped With Grubs
Miniature lipless cranks tipped with grubs are a solid tool for chasing larger bull bluegills, slab crappies, and jumbo perch. The crank can draw fish into the ice hole from a distance and the grub attached to the hook seals the deal as the fish approaches.
A grub, like a Berkley PowerBait Honey Worm, works perfectly with miniature crankbaits through the ice. The key to the rig is to make sure that the grub is run through the back treble that lines up with the lure and so that the grub hangs as horizontally as possible when it is jigged in the water.
The cadence for this rig is to lift of one to two feet, pause, drop back to its original position, and then back up again. When fish approach, the cadence changes to moving the lure fluidly up and down as though it is flowing through the water instead of jigging it. Jigging these lures can sometimes deter more finicky panfish from biting.
Spoons Tipped With Maggots
Spoons are a staple for any ice fisherman's arsenal and effectively catch everything from perch to pike. Smaller spoons -- those which are 1/8 oz. or less -- are worthy of consideration with micro plastics like Angler's Emporium Custom Maggots.
Starting with one or two maggots is a sound strategy with smaller spoons as these micro offerings will not detract from the lure's intended movements and they can entice less aggressive panfish to bite because of their diminutive size.
Similar to the miniature cranks, small spoons can be jigged from one to two feet up and down through the water column. Once a fish approaches, slowing things down and making small twitches or jigging movements so the maggots wiggle can get fish to commit. If that does not work, then lifting the spoon slowly a few inches away from the fish can sometimes make them give chase.
This is a classic scenario where an "uphit" can occur…when the fish literally lift the lure up in the water column when they strike so that the end of the rod tip returns to a neutral position.
Tungsten Jigs Rigged to Plastic Flies
When fishing is tough, as can be the case in midwinter when the ice is at its thickest and is covered with snow, it may be time to downsize even further from the small spoons previously mentioned.
Tungsten jigs rigged with Angler's Emporium Custom Stoneflies, Mayflies, or Multi Nymphs can be a great choice when fish are out feeding over basins on invertebrates. This is a scenario of finesse fishing that also means matching the hatch because of how the fish are keying in on aquatic bug life for their easy meals during the difficulties of midwinter. The flies can be hooked through top of the head, or another option is to hook them just behind the head on top of the bug to help further hide the jig from protruding and potentially look less natural.
The jigging cadence for the tungsten jigs rigged with a plastic fly can vary from aggressive lifts up to one foot at a time in the water column to subtle jigging that barely moves the appendages of the insect. As fish approach, slowing things down even to a stop, can help get fish to gulp the plastics as they pose as an easy meal.
Having mini cranks rigged with grubs, spoons rigged with maggots, and jigs rigged with flies during your next ice trip can help you improve your chances of putting some big bluegills, crappies, and perch on the ice.
Tight lines and safe fishing!